Protective cover for KUKA robot working in steel casting. The robot takes samples directly from the furnace.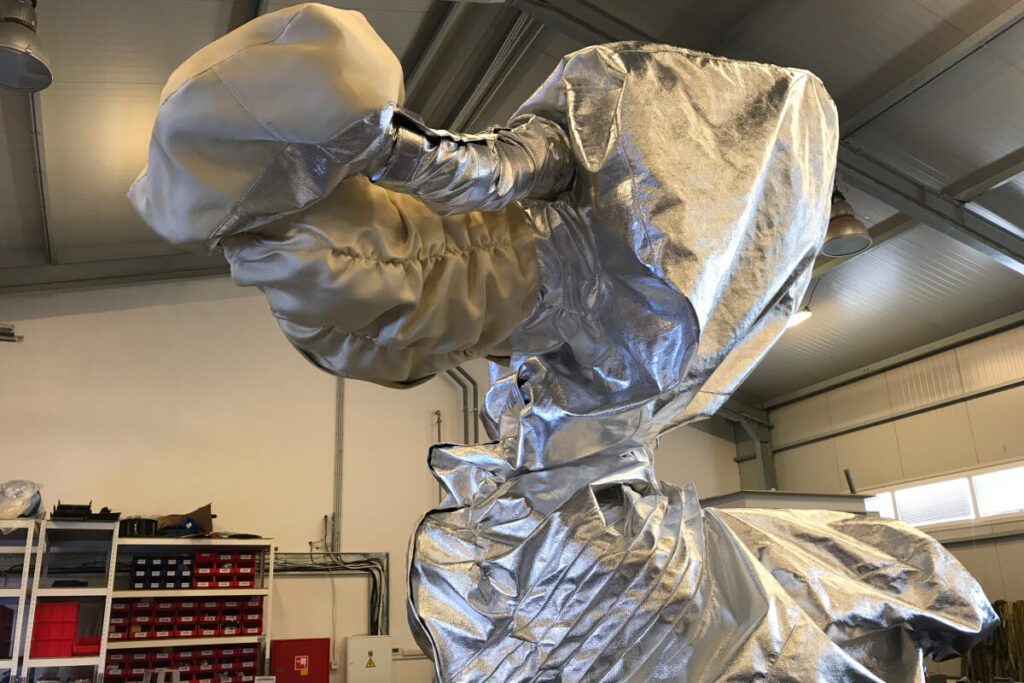 THE CLIENT
A globally active European company working with integration of robotic industrial production lines
What did the Client gain by using the EVO_heat cover for KUKA KR210 robot?
Protection of the robot from hot metal dust;
Protection from hot metal splashes;
Ability to cool down the robot in environment where ambient temperature is higher than its upper working limit thanks to special openings in the cover;
Decreased risk of robot malfunction.
DANGER TO A ROBOT WORKING IN DIFFICULT, DEMANDING ENVIRONMENT WITH INCREASED TEMPERATURE
The most important risk to the work of KUKA robot is very high heat radiation generated by the steel melting furnace. The radiation temperature would reach even 1500°C, which meant that the robot's working temperature was much higher than the permitted limit. Without a cooling system, the robot located 3 metres from the furnace would not be able to work at all. Work in such high temperature could cause overheating of servomotors and an uncontrolled break in the process.

What is more, in the steel casting process there are hot particles splashes and a large amount of dust present, which could have a destructive effect on the robot surface and the equipment. The dust is abrasive, so when it gets inside the gears of the robot it causes damage and a malfunction of the entire robot, which makes it necessary to replace the part.
THE SOLUTION – an EVO_heat protective cover for KUKA robot working in steel casting.
The solution is a protective cover for KUKA KR210 robot, made of non-flammable technical fabric coated with a special layer reflecting radiant heat and resistant to splashes of solid particles.
Because of high temperature heat radiation, the most vulnerable spots on the robots are protected with an additional replaceable cover that is put on top on the main cover, on the upper arm of the robot.

All cables and conduits supplying cooled air to the robot wrist, and even the metal shield on the wrist, are also protected with fabric resistant to very high temperatures. Otherwise, they could become damaged by contact with hot splashes.

Using the EVO_heat protective cover in the hot metal sampling process ensures continuity of the production process and decreases the risk of a malfunction. This solution also decreases the operative cost of the industrial robot.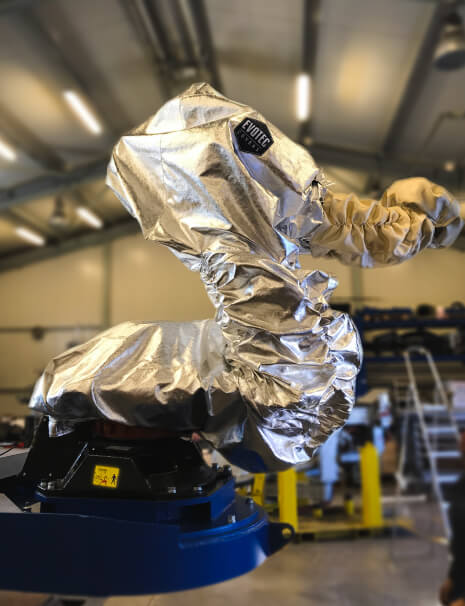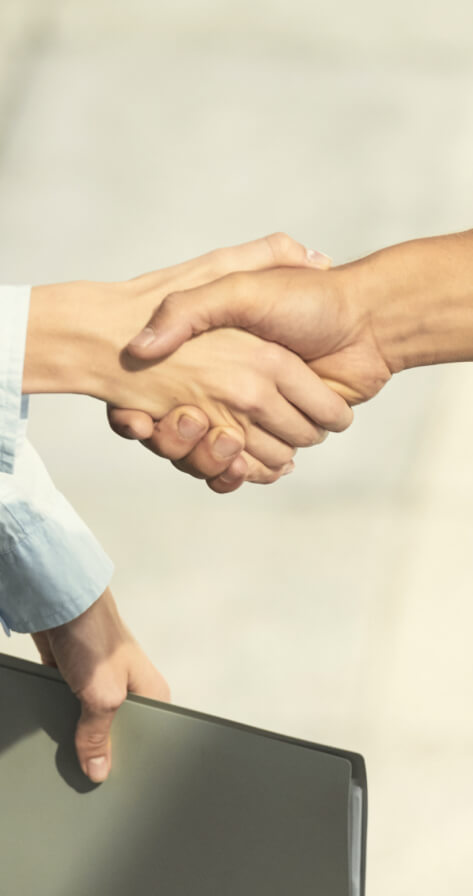 Let's talk about what harmful factors your robot is exposed to.
Book a conversation now.