Protective covers for robots working in metal surface treatment processes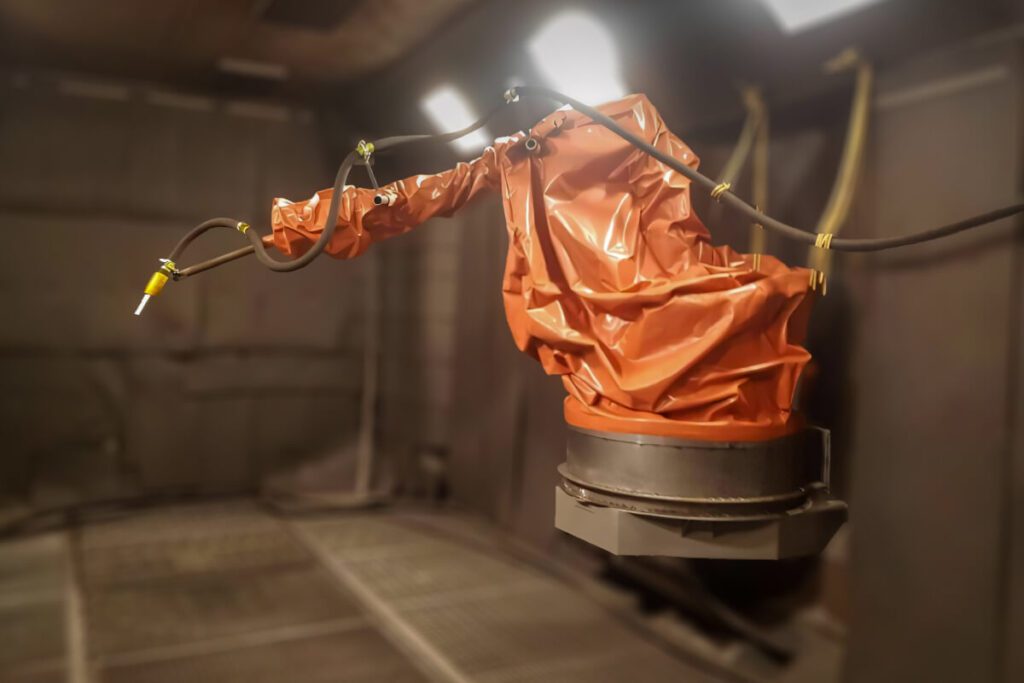 CLIENT
An European company offering metal treatment service.
What did the Client gain by using EVOTEC protective covers?
Tailor-made solution adjusted to the Client's needs;
Protection of the robot surface and mechanisms from degradation;
Decreased risk of robot malfunction;
Decreased robot maintenance cost.
DANGER to robots working in abrasive surface treatment processes
In automated processes such as sandblasting or shot blasting, using industrial robots, it is a good idea to use protective covers supporting the work of the robots in difficult conditions.

Abrasive ricochet and dust generated in the shot blasting process are main endangering factors to robots working in Automotive, Aerospace or construction industries. The solution may be using a protective cover.
Protective covers in shot blasting process
During this type of processes, highly abrasive shot ricochets from treated parts and hits the robot. This causes damage to the surface of the machine. Shot blasting also generates a large amount of dust which accumulates on the robot and penetrates its gears and moving parts, which also damages them. In most cases, the direct consequence is gear replacement, which is much more expensive than using a protective cover.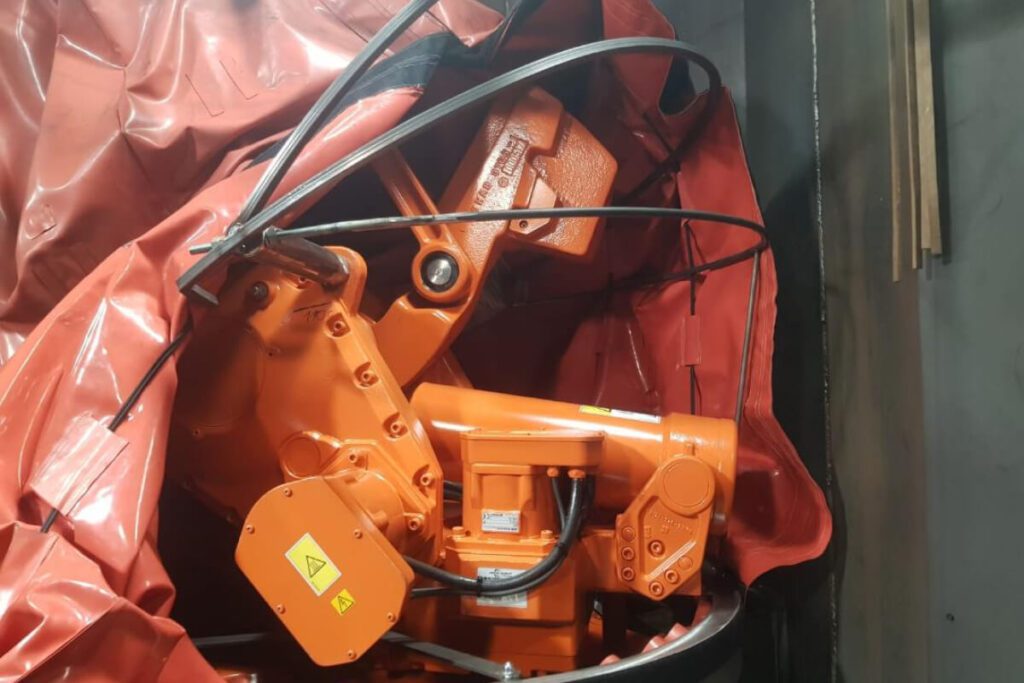 THE SOLUTION: protective covers in the metal profile shot blasting application
The ABB IRB 4400 robot works at our Client's facility, performing shot blasting of metal profiles. The harmful factors in the shot blasting process are serious enough to cause robot degradation and constant gear replacements, if the robot worked without any protection. To prevent such damage, the Client is using the EVO_blast cover, which supports the work of the robot in difficult conditions.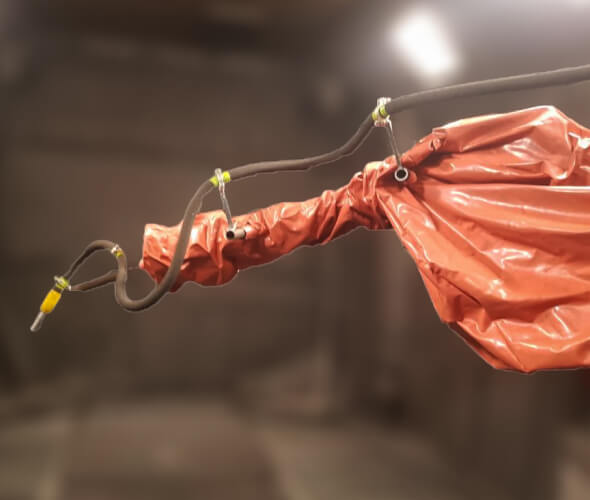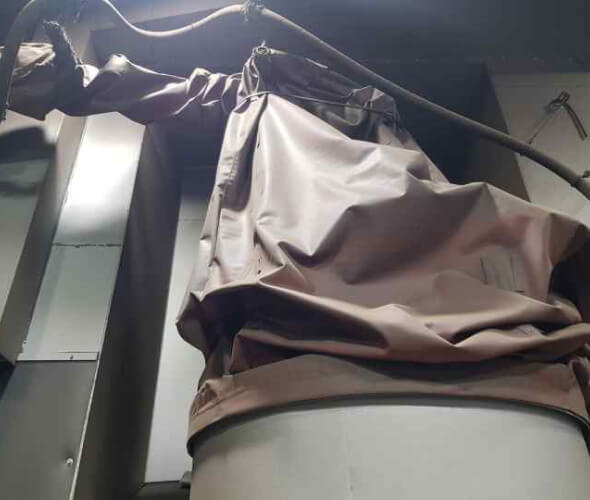 Protective cover for ABB IRB 4400
Pokrowiec ochronny EVO_blast jest wykonany z materiału o bardzo wysokiej odporności na ścieranie, dzięki czemu chroni robota przed rykoszetami ścierniwa oraz działaniem abrazyjnego pyłu. Dodatkowo pokrowiec ochronny na robota ABB IRB 4400 zainstalowany jest na pierścieniach obrotowych, dzięki czemu możemy chronić całą jego powierzchnię. W tym wypadku, dzięki zastosowaniu różnych elementów montażowych dla pokrowca, robot chroniony jest od podstawy aż po kiści, a pokrowiec w żaden sposób nie ogranicza jego ruchów.
Protective covers in shot blasting application
Thanks to the EVO_blast cover, the robot can work with shot blasting without risking surface degradation or damage to moving parts due to dust and abrasive ricochet.

Using an EVO_blast protective cover in the shot blasting process ensures production continuity and reduces the risk of malfunctions, which greatly reduces the maintenance cost.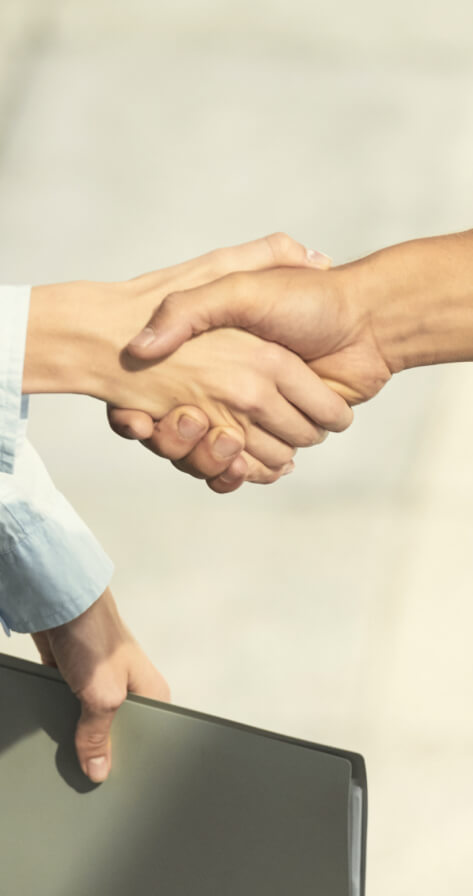 Let's talk about what harmful factors your robot is exposed to.
Book a conversation now.